The Garden of Ninfa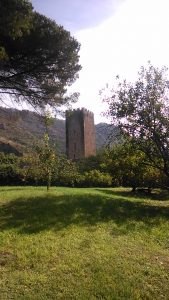 Located southeast of Rome near the hill towns of Sermoneta and Norma, this delightful garden is a romantic oasis in the valley. The gardens were planted in the ruins of a once-noble estate around the remains of a medieval watch tower.
It seems like a spontaneous act of nature reclaiming the land and creating beauty among the ruins. The eight-acre site has meandering paths, bubbling brooks with stone bridges overhung with wisteria, and water canals with little cascades that course from natural springs. There are more than 1000 plant species, including more than 300 varieties of antique roses. It is an enchanting spot, and is frequently called "the most romantic garden in Italy".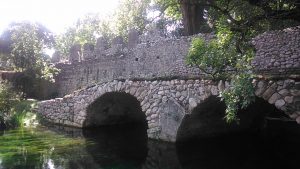 Ninfa Garden has quirky hours, open only a few times per month from spring through autumn, with limited spaces available for each timed entry. We were fortunate to snag tickets and get on a tour of this almost mythical place, with diffused sunlight and almost unreal surroundings adding to the allure. We followed through each zone, some with unique microclimates, and soaked in the beauty of the place. The final stop was truly magical as a pair of swans glided into the photos, almost as if on cue for a movie part.
Check the website to see if your trip coincides with one of their rare openings. It is truly worth the effort to enjoy this enchanted garden.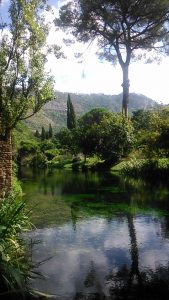 Giardino di Ninfa
Via della Fortezza
Sermoneta